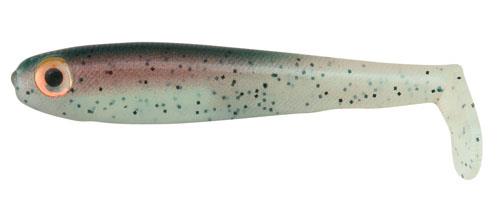 Beginning back in 2005, several of YUM's soft-plastic baits played an extremely important role in Midwest finesse anglers' repertoire. The four chief ones were the two-inch green-pumpkin Wooly Beavertail, 4 ¾-inch green-pumpkin Houdini Worm, 4 ¾-inch watermelon-red-flake Houdini Worm, and three-inch green-pumpkin Dinger.
Nowadays, those baits are no longer made. Thus, unless some anglers stockpiled an arsenal of those four baits before they were discontinued, Midwest finesse anglers rarely affix a YUM soft-plastic bait to their 1/32-, 1/16- and 3/32-ounce Gopher Tackle Mushroom Head Jigs.
But recently a veteran Finesse News Network member pointed out that YUM's relatively new 2 ½-inch Money Minnow might appeal to some Midwest finesse anglers who are looking for a small swimbait or grub-style bait to affix to a 1/16- or 3/32-0unce Gopher jig with an exposed No. 4 hook.
Anglers who have used the 2 ½-inch Money Minnow say that its entire body vibrates during a fast-pace retrieve, and when an angler executes a slow presentation, the boot tail undulates alluringly. Other than employing their straight or do-nothing retrieve, Midwest anglers can also use it with their classic drag-and-shake retrieve, strolling motif, and hop-and-bounce presentation. (For more information about Midwest finesse retrieves, see this link: http://www.in-fisherman.com/2014/03/05/six-midwest-finesse-retrieves/.)
The folks at YUM laud the hidden hook slot in its belly, which makes it easy to rig and prevent kinks or twists that foul the way it moves durning the retrieve.
It is available in 15 colors: AYU; Bluegill; Clown; Foxy Shad; Goby; Herring; Hologram Shad; Hitch; Pearl; Pearl/ Black Back; Pearl/ Chartreuse Back; Rainbow Trout, River Shad; Tennessee Shad; and Tilapia. Several of the translucent colors are endowed with embedded scale glitter. 
The price for a package of eight ranges  from $8.99 t0 $9.79.
Footnote: 
(1) YUM also has a two-inch or panfish rendition in their F2 series. It is available in eight colors, and a package of eight sells for $2.99. For more information, please examine YUM's website at http://www.lurenet.com/brands/yum-baits/yum-f2-money-fry. 
(2) We are eager for finesse anglers to send us insights about how, when, and where they have worked with the 2 ½-inch Money Minnow. Please post your observations and experiences in the comment section below.