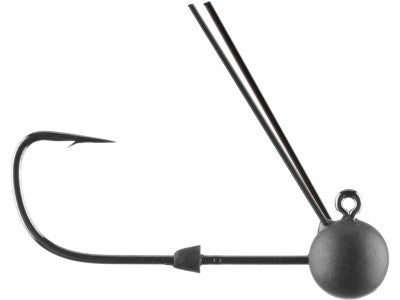 Nathan Parker, who is a Finesse News Network contributor from Tulsa, Oklahoma, posted a note on the network about a Japanese finesse jig that Midwest finesse anglers might find useful when they have to ply brush-filled reservoirs. It is called the Fish Arrow J Head.
It is endowed with a V-shaped fiber hook guard, which is designed to fold on each side of the point of the hook when a bass engulfs it.  The shank of the hook is graced with a rubber-cone baitkeeper that helps to keep soft-plastic baits firmly affixed to the tungsten head of the jig. The hook size is a No. 4, and it is made by Decoy.
This tungsten jig is manufactured in 1/20-ounce and 1/16-ounce sizes.
A package of five unpainted jigs can be purchased at some retailers for $7.49.
Endnotes:
Fish Arrow also manufactures four finesse jigs that sport a propeller blade; they are called Whicky Head, Whicky Head Guard, Wheel Head, and Wheel Head Guard. The Whicky Head is designed for wacky rigging. These jigs are similar to Northland Fishing Tackle's Whistler Jigs.
Takeshi Matsumoto, who designs lures for Fish Arrow, likes to dress a Wheel Head jig with a Fish Arrow Flash-J, which is similar to Gary Yamamoto Custom Baits' Shad Shape Worm and Z-Man Fishing Products' Finesse ShadZ.
For more information about finesse jigs with spinners, please see the Midwest Finesse column entitled "The ZinkerZ Spin and Its Precursors" at http://www.in-fisherman.com/2014/01/24/zinkerz-spin-precursors-3/.